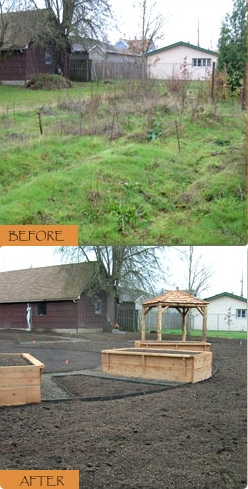 Services
About
J. Walter Landscape & Irrigation, a Portland-based landscape contractor and construction company, will help you create the garden design of your dreams specializing in soil preparation, irrigation and sprinkler systems, hardscapes, drainage and night lighting. Jaylene is always on-site with her crew making sure you receive the quality work you expect and deserve. We are a sustainable landscape company that cares about beauty, ecology and joy.
Design
J. Walter, a landscape construction company, works with a variety of experienced designers in Portland. Together we connect and integrate your individual needs to your unique vision creating your perfect garden. You can decide whether to implement the plans for your garden at one time or in phases, depending on your needs. Garden coaching is also available.
Irrigation
Part of proper irrigation is good design. We install drip irrigation as well as sprinkler systems creating irrigation specific to your garden needs.
J. Walter is a licensed irrigation/backflow company.
Soil
Good soil preparation is the foundation for a healthy and vibrant garden. We hand til organic amendments enriching soil biota which lowers costs from maintenance, pesticide use and water while at the same time preventing disease.
The majority of the time we use a steel flat bar edging. Often times there are also re-used materials found on site like stones also used for edging.
Plantings
We prepare each plant individually for planting by using beneficial mychorrizea encouraging healthy roots ensuring quick growth and longevity for your entire garden.
We use:
Low maintenance plantings
Drought tolerant plants
Native
Edible
Steppables and other lawn alternatives
Eco Lawn
A beautiful lawn alternative.
Hardscape
Custom design includes:
Patio
Paths
Walls
Planter boxes/raised beds
Steps
Small water features/Fountains
Pavers
Bridges
Structures
Drainage/Storm Water Management
We've always had at JWLIC a responsible and environmentally sound approach to landscape watering practices. We offer:
Grading
French Drains & Drainage Solutions
Dry Wells
Bioswales/Rain Garden
Lighting
We install traditional low voltage lighting as well as high efficiency LED lighting for evening ambiance in your garden.
Updates
Great Pics!